Media
Image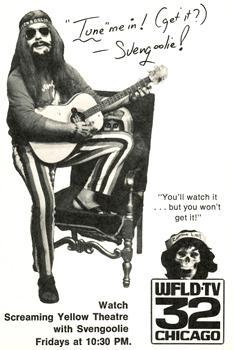 Image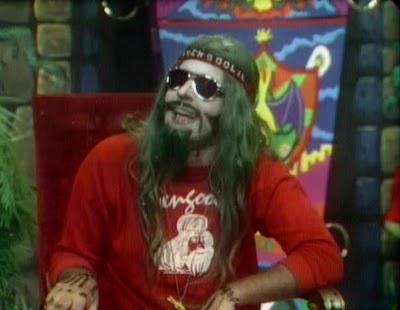 The show's original title was Screaming Yellow Theater with host Svengoolie. The title was derived from Screaming Yellow Zonkers, a yellow, sugary glazed popcorn snack, first produced in the 1960s. It wasn't until the revival that the show title and host's name were one and the same. It debuted on September 18, 1970 on WFLD (Channel 32) and ran until late summer 1973. Svengoolie was played then by Jerry G. Bishop. In later seasons, Rich Koz – a fan who sent in sketch ideas – became a show writer. In 1973, Kaiser Broadcasting took over WFLD from Field Communications and Screaming Yellow Theater was cancelled and replaced with The Ghoul from Cleveland. The Ghoul lasted until 1974 when it was taken off the air. Field Communications took WFLD back from Kaiser Broadcasting in 1978, which led Jerry Bishop and Rich Koz to discuss the show's resurrection. 
On June 16, 1979, Son of Svengoolie debuted on WFLD, with Koz in the title role. The show aired briefly on Field Communications-controlled stations in Philadelphia, Boston, San Francisco, and Detroit. The series ran until WFLD, then owned by Metromedia, was sold to Rupert Murdoch's Fox Television Stations Group in 1986 as part of the newly created Fox network. New management canceled the show, deciding that it did not fit the new programming direction. After 334 shows, the final episode aired January 25, 1986. Koz returned to WFLD in various capacities, mainly as the host of Fox Kids Club and The Koz Zone weekday afternoon children's programming, and appearing as an announcer on the Fox network's 1988 New Year's Eve broadcast.
Neal Sabin, executive vice president of Weigel Broadcasting, brought the show back on December 31, 1994 on WCIU (Channel 26), using "Svengoolie" as the name; Koz took the role of Svengoolie when Bishop told Koz that he "believed he was grown up enough now to no longer be just the Son." Koz hosts a weekly Three Stooges Stooge-a-palooza show on WCIU.
The series airs on Chicago's WWME-CA ("ME-TV"), Milwaukee stations WBME-CD and WMLW-TV, and occasionally on WMYS-LD in South Bend, Indiana. These stations are owned by Weigel Broadcasting. Beginning on April 2, 2011, Svengoolie's show became available nationally on the Me-TV network through the efforts of Neal Sabin.