Media
Image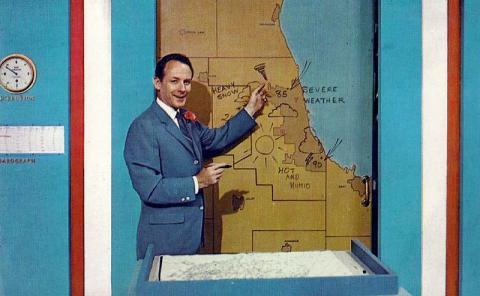 Harry Volkman (born April 18, 1926 - August 20, 2015) was an Americanmeteorologist. He was the first weatherman to issue a tornado warning.
Volkman got his start as a weatherman at KOTV in Tulsa, Oklahoma in January 1950.
Volkman's long-time work in Chicago area television was recognized in 1998 when he became a member of the local Emmys Silver Circle. During the many years Volkman spent at various Chicago-area television stations, he received local Emmys for his weather forecasting in 1961, 1964 and 1967. At the time of his 2004 retirement, Volkman had spent 54 years in television.
Meteorology career
1950–1952: KOTV – Tulsa
1952–1955: WKY-TV – Oklahoma City
1955–1959: KWTV – Oklahoma City
1959–1967: WMAQ-TV – Chicago
1967–1970: WGN-TV – Chicago
1970–1974: WMAQ-TV – Chicago
1974–1978: WGN-TV – Chicago
1978–1996: WBBM-TV – Chicago
1996–2004: WFLD – Chicago